On the latest episode of the WI Law in Action podcast from the UW Law Library, host Emma Babler interviews Sumudu Atapattu, Director of the Research Centers at UW Law School.  Atapattu discusses discusses her journey from Sri Lanka to UW-Madison and her passion for environmental law.  She also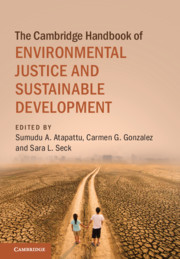 describes the new book that she edited and contributed to, "The Cambridge Handbook of Environmental Justice and Sustainable Development," and its first chapter, "Intersections of Environmental Justice and Sustainable Development: Framing the Issues."  Below are a few excerpts from our discussion.
Atapattu on her background and interest in teaching and environmental law:
I always had a very strong sense of justice and growing up in Sri Lanka and working there, I saw firsthand the negative effects of environmental issues and development activities on people. And I have also traveled quite a bit and have seen the negative effects of poverty, particularly in South Asia region and the need to raise the living standards of people. And I realized that one cannot separate economic development and environmental issues from people. And it's always the poor and marginalized who are disproportionately affected, whether it's a proposed coal power plant, station or pollution from factories, it's always the poor people or minorities who are affected. And they also lack any political clout. They don't have a way of organizing. They don't have a voice. So giving them a voice at the table is very important and they don't know what their rights are.
Atapattu on the connection between human rights and environmental law:
I also worked for a human rights NGO in Sri Lanka many years ago, of course, and I realized that these two groups rarely work together, although they have similar issues, and they could have done so much by pooling resources and fighting for issues together, but they rarely did. And human rights NGOs felt that their issues are more tangible and more immediate and more important in some ways, whereas environmental NGOs struggled to show that their work was important. And particularly because I think it was a new field and also some of the consequences take longer to materialize…

Human rights activists and NGOs and environmental NGOs didn't really work together until quite recently, actually. When I say recently, maybe 10, 15 years ago they started working together on climate change because it's a huge issue and climate change has negative consequences on human rights. Two camps came together to work together, climate change and human rights, but people still have this human rights versus environmental mentality, but people are part of the environment and you cannot speak of one without speaking of the other. So these issues are intertwined and you need a holistic approach, but you still see this compartmentalization taking place…

I remember many years ago when I was working for the environmental NGO, they came one day from court, they had filed an action against in relation to a national park where there had been some people, the word they used was squatting in the national park. And I wasn't sure whether these were indigenous people or not, but the lawyers were very elated saying they managed to evict these squatters from the national park. And I asked them, "So, where did the people go?" And they looked very surprised. They hadn't even thought about it. And that's how I really got interested in this link because sure, you got a victory to protect the national park, but you didn't think about the people who were being evicted, where did they go? They depend on the forest for their daily subsystems and medicine and things like that. But if you don't think about the people, then what is the use of your victory?
Atapattu on teaching environmental law in law schools and the intersectionality with other areas of law:
As legal educators, we have a responsibility to train future lawyers to address climate change, whether it comes to contract law, property law, insurance law, ad law, or international law, all these areas will be affected by climate change.  I think almost every area of law will have to factor in climate change and we'll be doing a disservice if we don't incorporate climate change into our teachings and prepare them for a legal career in a climate change effected world…

We need to train students to address these issues, not just areas of existing law that would be affected by climate change, but also to address these emerging laws…  I've been teaching a seminar course on climate change on human rights looking at the link between the two for several years now and we are one of the few law schools in the country that's actually teaching a course on climate change and human rights.
Atapattu on what the new book contributes to the field of environmental justice:
In the book we tried to shed light on environmental injustices around all the world through to a set of legal frameworks and case studies. We wanted to highlight these case studies, that these struggles are not confined to a particular region or a particular group of people and there commonalities in all these struggles…

Some of the chapters that stood out relate to environmental justice, nuclear testing in the Marshall Islands and also China cancer villages and capitalism because these chapters highlight that the underlying causes of environmental injustice. Some of them date back to the colonial era…

And we also wanted to highlight some success stories, too… Public interest litigation in South Asia, for example, really contributed to highlighting some of the problems these marginalized communities are facing and gave rise to success stories…  We can learn from the strategies that these success stories used so that maybe we can adapt those strategies to our own struggles…

There are several lessons from the book I hope the others would take away. One of them is that these struggles have root causes elsewhere. And as I said, some of these date back to the colonial era, and unless you address these root causes, you cannot really address these environmental injustice. And we saw these in relation to, say, Hurricane Katrina, for example, the disproportionately minorities were affected… And that's a theme that comes out so much in the book. And these environmental injustice and other forms of injustices are intertwined with one another and therefore adopting a holistic approach is very necessary…

We also wanted to highlight how the human rights framework has given a voice to these marginalized communities. And also those who are already marginalized or in a vulnerable situation are more likely to be disproportionately affected by environmental degradation and these vulnerabilities intersect with one another to form even greater vulnerability. So intersectionality is another lens that we should adopt when we are addressing these injustices.
Atapattu's new book, "The Cambridge Handbook of Environmental Justice and Sustainable Development," is now available from Cambridge Press.  You can find her many other works on SSRN and the UW Law School Digital Repository.