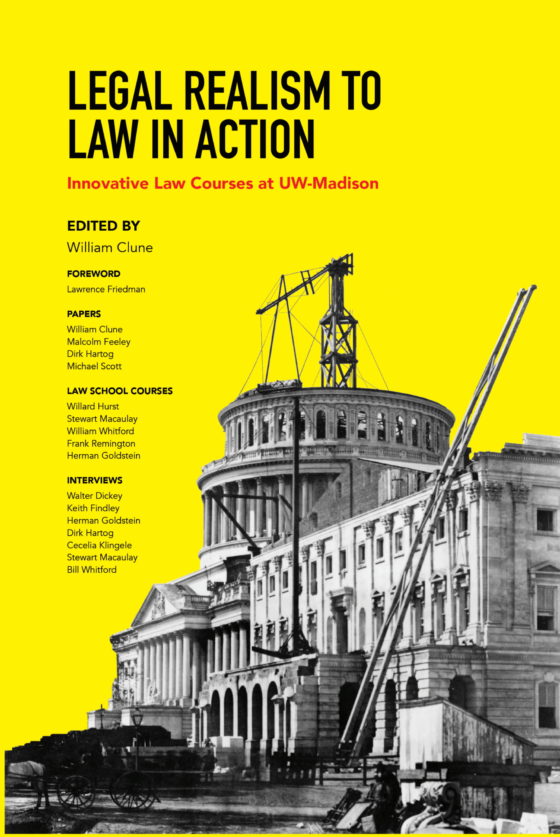 Just released, Legal Realism to Law in Action documents the University of Wisconsin Law School's distinctive approach to teaching and research.  The book, edited by William H. Clune, Voss-Bascom Professor of Law Emeritus, is a collection of papers and interviews describing the innovative law school courses developed by UW Law School faculty from 1950 to 1970.  These courses, which forged a path from legal realism to law and social science, took a "law in action" approach to the study of law which became a signature feature of the Wisconsin Law tradition.  To preview the preface, see SSRN.
Authors include Lawrence Friedman, William Clune, Malcolm Feeley, Dirk Hartog, and Michael Scott. Interviews are with Herman Goldstein, Dirk Hartog, Bill Whitford, Stewart Macaulay, Cecelia Klingele, Keith Findley, and Walter Dickey.
The pioneering courses discussed were by Willard Hurst, Frank Remington, Herman Goldstein, Stewart Macaulay, and Bill Whitford.
The genesis of this book was a 2019 UW Law School event celebrating Wisconsin's Law in Action tradition.  Materials from that event are available on our UW Law School Digital Repository.
This review provides an excellent summary:
"In a time when an increasing number of law schools characterize themselves as bastions of 'law in action,' this volume provides a bracing reminder of a more precise vision. That vision was rooted in the legal realist tradition during an earlier 'golden age' of sociolegal thought at the University of Wisconsin Law School. In this important book, we hear vivid accounts of the innovative law teaching during that time, which took realist discoveries seriously—in Contracts, Legal Process, Legal History, and Criminal Law."
— Elizabeth Mertz, Research Professor, American Bar Foundation; John and Rylla Bosshard Professor Emerita, UW-Madison Law School