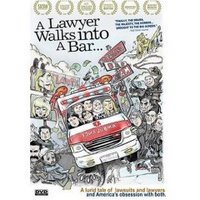 Earlier this year, I reported on the lawyer documentary, A Lawyer Walks Into a Bar… which was showing at several film festivals. Now, it's been released on DVD and is available for purchase on Amazon and soon to be available for check out at the UW Law Library.
Here's the NYT review as it appears on Amazon:
Writer-director Eric Chaikin's feature-length documentary A Lawyer Walks Into A Bar. . . offers a witty, seriocomic look at myriad aspects of the American legal process and judicial system. It hones in on six individuals, all prospective attorneys at the time of the film's production, and follows them through trials and travails as they approach and take the formidable bar. Chaikin then uses the subjects' stories as springboards to broader digressions on U.S. litigation. The film features a myriad of celebrity guest appearances, from both well-respected attorneys and entertainers. Participants include: attorneys Alan Dershowitz, Mark Lanier and Joe Jamail; comics Eddie Griffin and Michael Ian Black; TV commentators John Stossel and Nancy Grace, and many others.
Source: Robert Ambrogi's LawSites
—-
Update 9/26/07: The DVD is not currently available on Amazon, but you can still order through the A Lawyer Walks Into a Bar web site. Thanks to Charles Martin for the heads up.