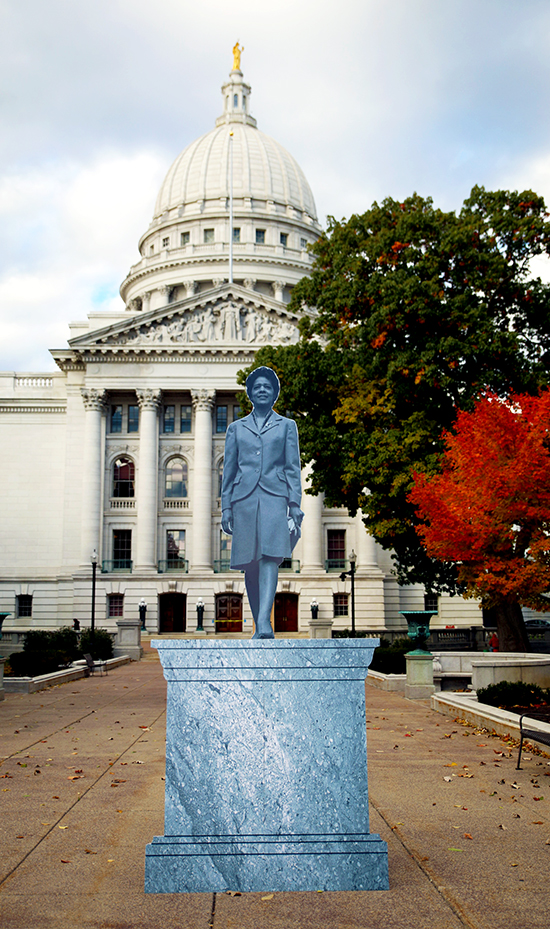 Earlier this week, plans were announced for a statue in honor of civil rights activist Vel Phillips on the Wisconsin State Capitol square at the corner of West Main and South Carroll streets.  Phillips was the first African American woman to graduate from the University of Wisconsin Law School and to be elected to a statewide office in Wisconsin and the entire nation. She also served as the first female and African American elected to the Milwaukee Common Council, as well as the first African American judge in the state of Wisconsin.
From the State Bar's InsideTrack:
"Wisconsin's legal community is proud that the contributions of one of our outstanding members will be recognized and honored by the people of Wisconsin," said State Bar of Wisconsin Executive Director Larry Martin.

Martin participated in a press conference at the Capitol today [November 1] regarding the statue, alongside state Reps. Amy Loudenbeck (R-Clinton), Shelia Stubbs (D-Madison), as well as Michael Phillips, Vel Phillips' son, and Michael Johnson, president of the Boys and Girls Club of Dane County, which have been involved in the effort.

"Vel Phillips was a true trail blazer and history-maker, who used her knowledge of the law to advance the cause of justice for all Wisconsinites," Martin said.

Martin noted that Phillips used her knowledge and skills as a lawyer to make a fundamental difference in the lives of thousands. "She was a pioneer in city and state government, fighting – and winning – for fair and open housing; for civil rights; racial equality and equal justice. It is a legacy that all Wisconsinites can take pride in," he said.